easy mehandi design-22 Latest Arabic Mehndi Designs 2022, Easy & Beautiful
Front Hand Arabic Mehndi Design #1 For excellent Arabic mehndi designs, few spaces and patterns are needed. You only need a little amount of originality, wavy designs, and classic themes. Amrita Henna is one of the top Instagram accounts to follow for henna design inspiration. When it comes to elegantly linking mehndi motifs, she is certainly a creative talent. Here is an illustration of the amazing artwork we're referring to. This won't be the only item on the list, though. We have selected the top Arabic mehndi designs from her collection for this list.
mehandi design simple
#4 Not all Arabic mehndi designs have to be about bel patterns, some can be drawn like bharwa mehndi but still employ the USP of the spacious and creative element of the Arabic henna patterns. We love how Amrita Henna uses the bold strokes here to create an impressive pattern and leave some space in the middle so as to give a simplistic vibe. The beauty of paisleys just hits different in this one.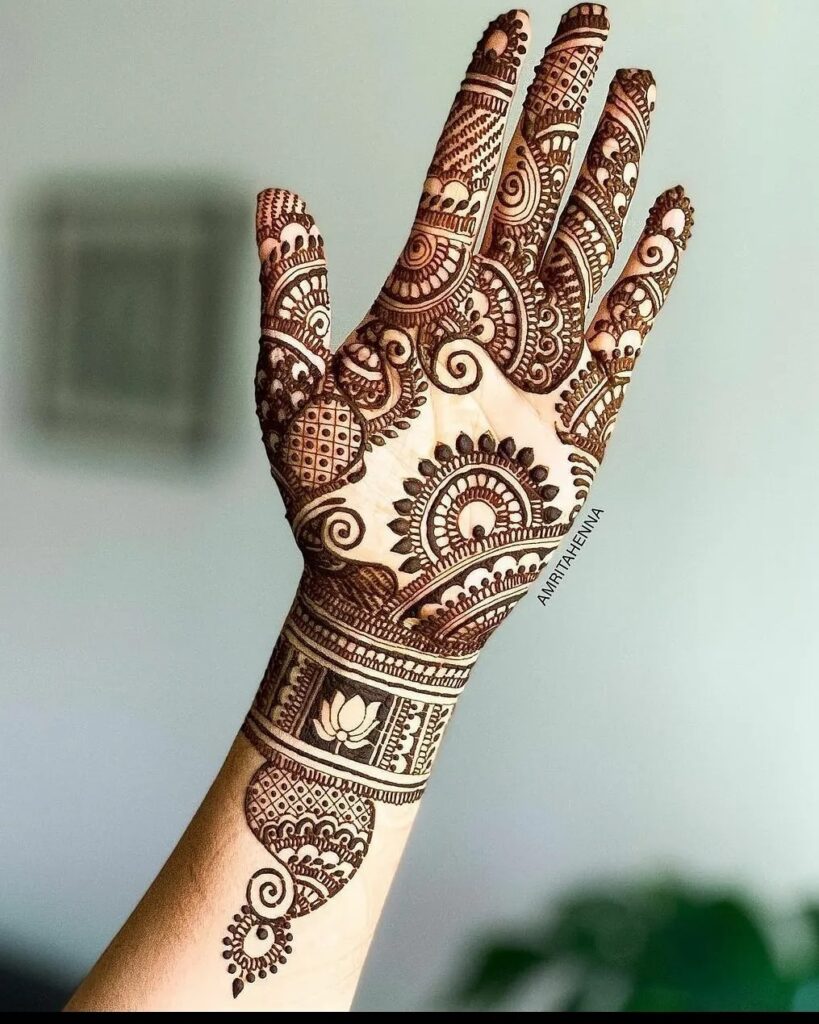 #5 For those looking for simple and beautiful paisley pattern Arabic mehndi designs, here's one that should top your list. Covering only the palm of hands and employing the free-flowing structure of the Arabic mehndi, we love how neat and phenomenal this design looks without any extra dramatic elements. For bridesmaids or even brides looking for a minimalistic henna pattern, here's one to go to your Pinterest board straight away.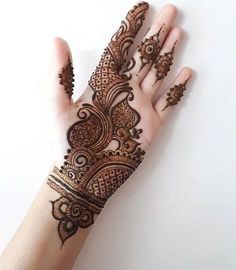 #6 Honestly, this takes me back to my childhood days of the '90s and 2000's when Arabic mehndi designs were all the rage and these bel patterns with paisleys and semi-circular figures were the trending elements in Arabic henna. Beautifully done and reminiscent of our childhood memories, there's more allure to this henna than the pictures do the justice. Also, if you're someone who's skilled at artwork, this one's also an easy and beautiful Arabic mehndi design 2022 to try.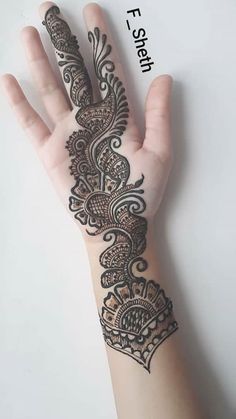 #7 This is a stop-and-stare kind of henna design! When you look closely, you realize that none of the paisley motifs resemble others, which is what makes this design attractive in one look. The way the florals, paisleys, and semi-circular patterns have been arranged is artistic and can make for a stunning design for a bride looking for an exclusive and unmatched pattern for her wedding day. The fingertips covered in mehndi further complete the henna design and add a gorgeous allure.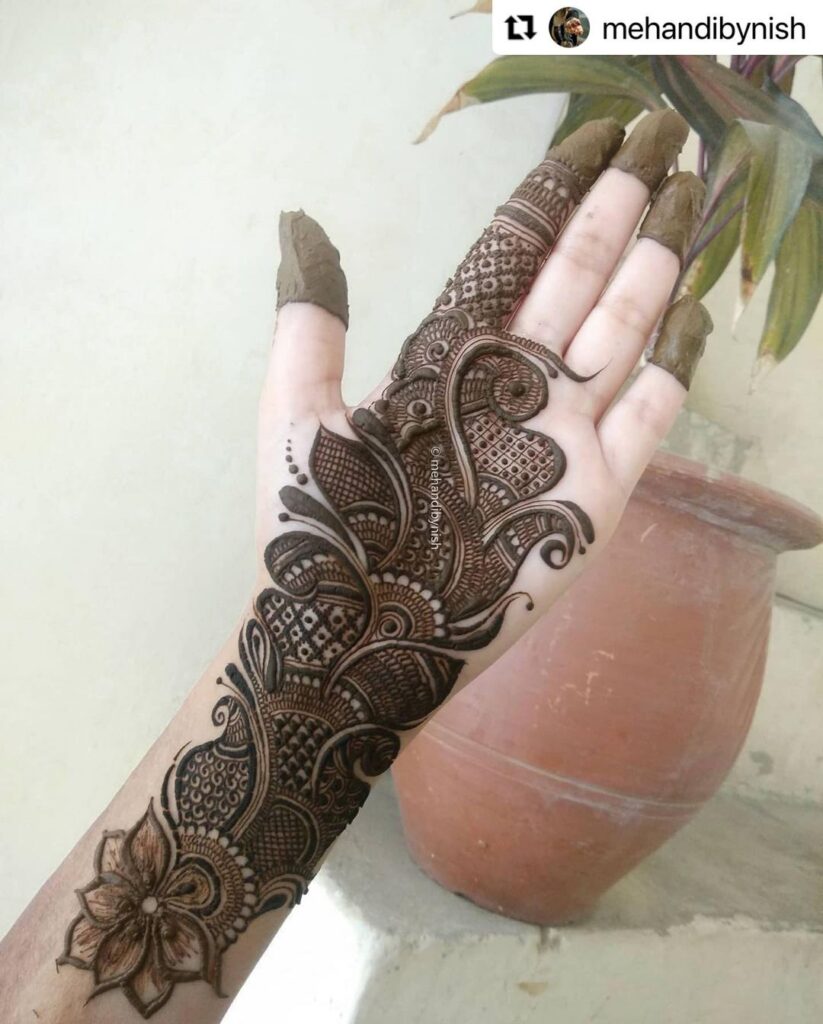 8 Here is a palm-specific Arabic henna design that is, to put it mildly, beautiful. This design is incredibly endearing and alluring because of the interaction between thick and thin strokes. However, it requires expertise and is quite challenging for a novice to nail down. If you neglect the professional aspect of this design, the appeal of the design will be lost. And if you're truly serious about recreating this pattern, seek out a henna artist who is skilled in using strong lines. Not everyone accomplishes it, and without this specific component, the design's ethereal beauty will be gone.
9 Another variant of the traditional henna patterns are the bharwa arabic mehndi designs, which are perfect for brides or members of the couple's immediate family who desire roomy henna but one that also offers them the glitz of the forthcoming significant occasion. We must acknowledge the astounding ingenuity of modern henna artists. They have a talent for embellishing classic motifs to produce voguish patterns. All of this with such perfection and no effort. This one is unquestionably a piece of art.
#10 Yet another Arabic mehandi design just for the palm of hands and done using basic henna motifs. All we can see are leaves and florals, not even a sign of paisleys. As we said, henna artists are really outdoing themselves these days. It's no less than creative magic that this pattern looks so whimsical with no sign of paisley or any other dramatic motifs. Again, even though the outline is easy, the filling takes very swift hands and we'd suggest you trust only a professional to do this for you!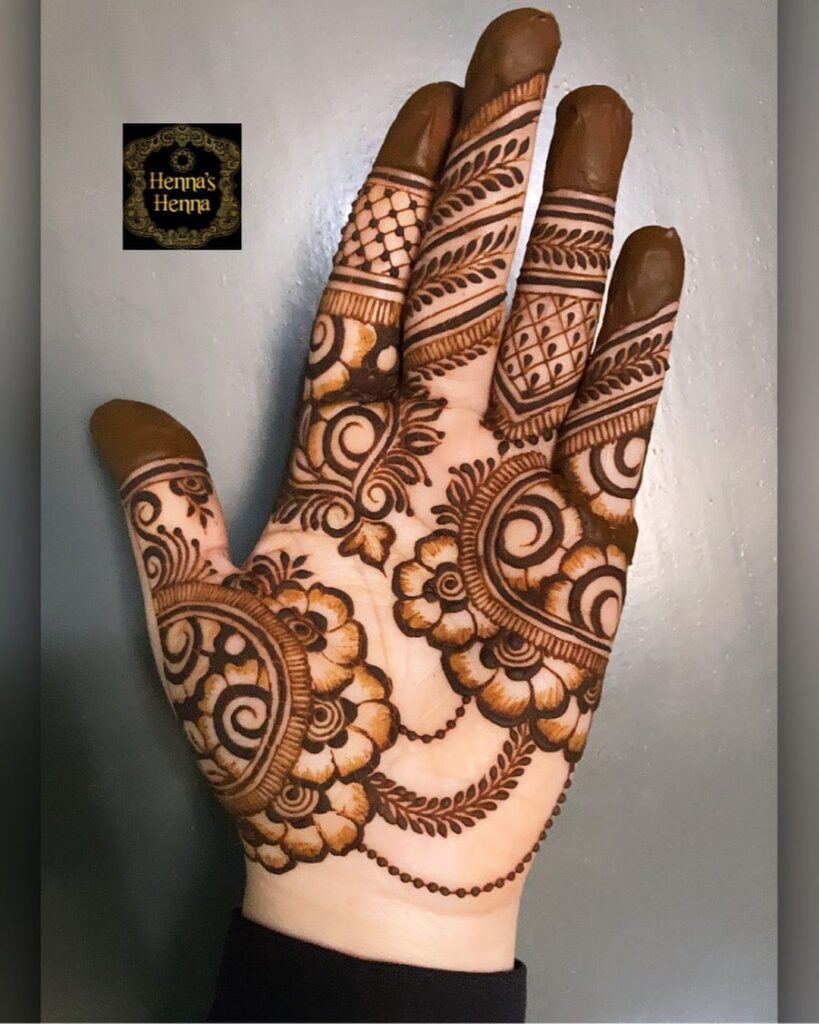 #11 What a gorgeous display of Arabic mehndi design for full hands! If you're a bride who loves the whimsical nature of the arabic patterns and would want to wear that on your wedding day, then here's a design just for you! Although, even the sister of the bride or even the respective mother of the bride & groom can take advantage of this gorgeous arabic henna pattern. While there are several great things about this design, what we love is the spacious nature of this henna more than anything. It just gives such a simplistic element to this bharwa arabic henna. Truly a standalone design of all!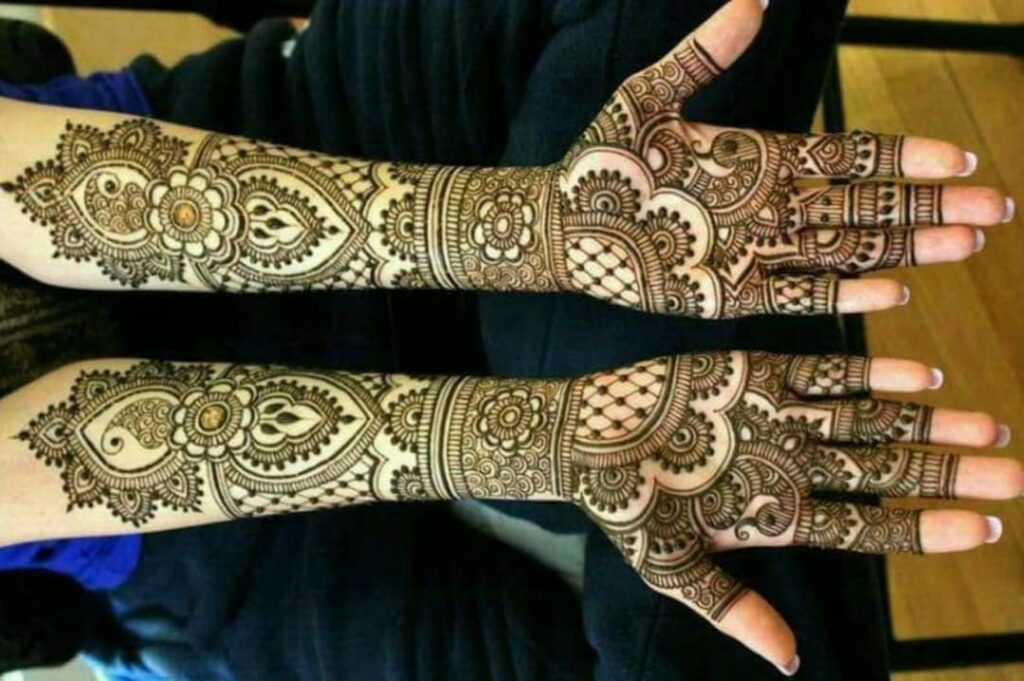 #12 Another full hand arabic mehandi design to impress you. This one's a little more stylish than the one presented above and also, best done by a professional. The neatly done florals and lines create a phenomenal layout on the side and the filling is done rather intricately to enhance the full exquisiteness of the design. If you're a bride-to-be who wants a stylish arabic mehndi on their wedding day, this one surely wins.
simple mehandi design
Arabic Mehndi Designs For Back Hand
#14 A stylish arabic mehndi design that will catch the attention of anyone who lays eyes on it. Another advantage is that it's relatively easy to recreate than any other arabic mehndi designs 2022 on this list. All you need to take care of is the innovative outlines and make sure that they're as bold and free-flowing as the ones depicted. Rest, both the fillings and patterns are easier to draw. Rest assured, you can easily build the magic of this design at home with the help of someone who has a good skill set in the drawing.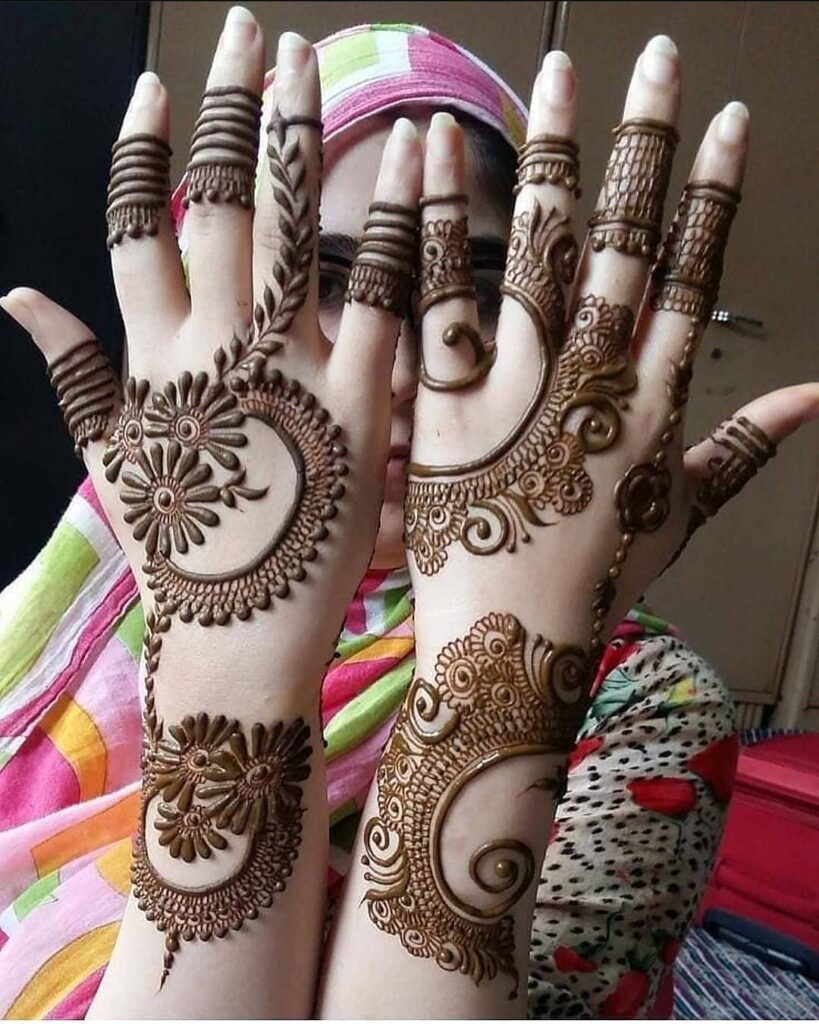 #15 There's just something alluring about the bold strokes. When done intricately and swiftly, they lend a whimsical charm to the mehndi design, and here's another depiction of why we love them so much. Done with strategically placed lines, leaves, and florals, this mehndi design can be easily curated at home. Just make sure the inside of the filling of the flower designs is done with thin strokes to add further charm to your mehendi pattern.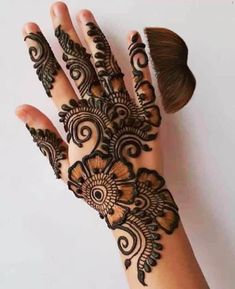 16 This backhand arabic mehndi has a grand charm that is difficult to describe since it combines jaal mehndi design, arabic henna patterns, and 3D embellishments. Not all artists are capable of producing a fusion-styled henna design like this, thus the mesmerising ingenuity is certainly deserving of appreciation. The fully painted mehendi tips add a last touch of appeal and complete the design. We would encourage you to cover the tips of your mehendi pattern as well if you want to replicate the gorgeous aspect of this arabic backhand mehndi.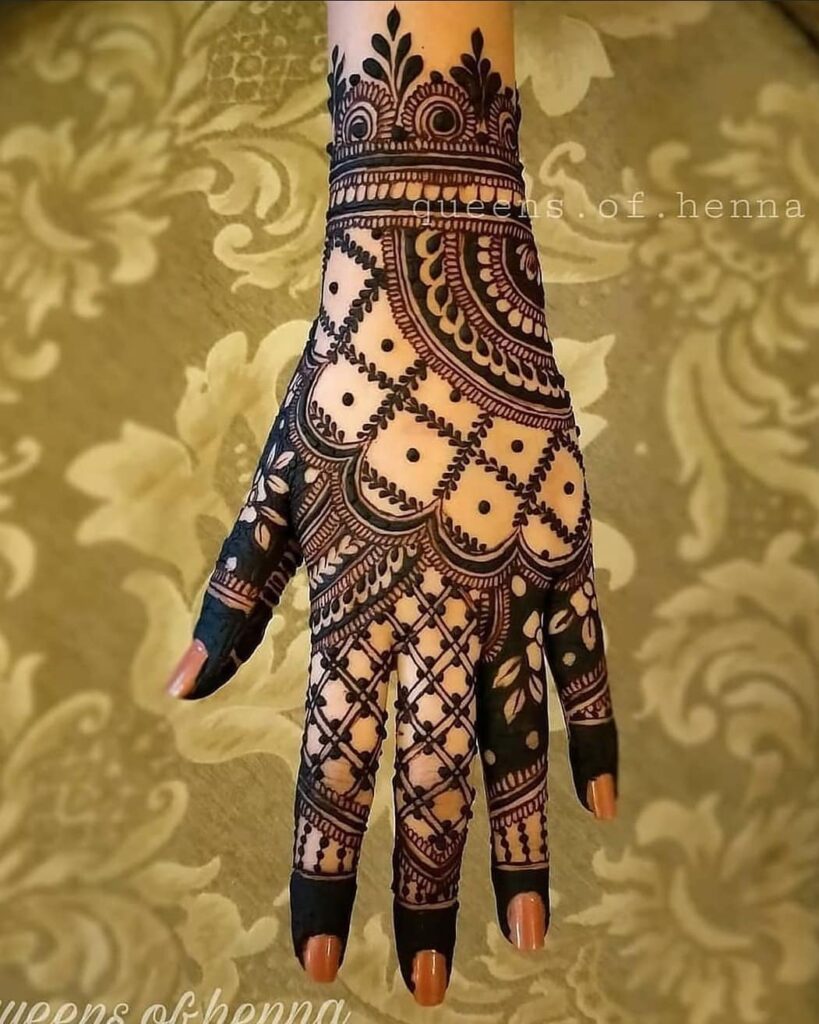 #17 Jaal patterns are trending in henna designs. They're the favorite of brides, sure, but even the bridesmaids and the close family members of the couple love this design. It definitely suits women of all ages and serves the purpose of both being voguish and traditional. We love how this arabic bel pattern constitutes a jaal mehndi and fuses the allure of both arabic & jaal in one. Definitely, a new, stylish mehndi design to try!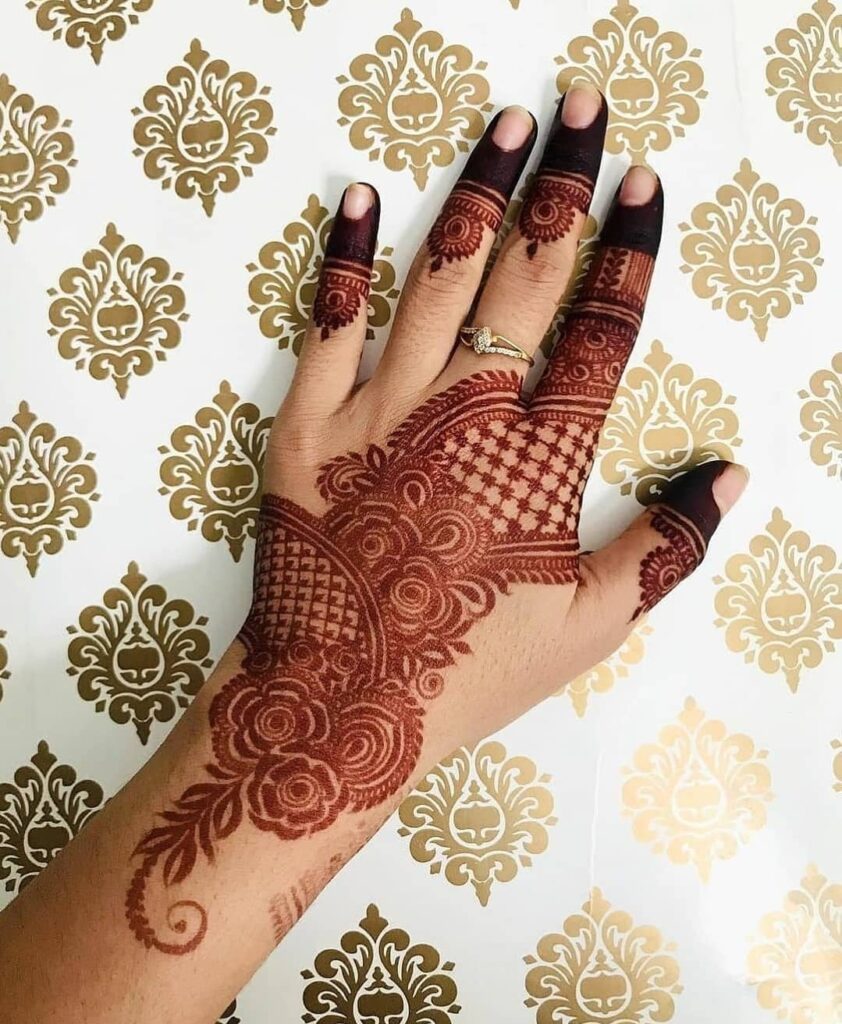 18 This arabic backhand henna design has a great split between the two patterns that produces such a beautiful pattern. Flowers always give any wedding component—from décor to clothing and mehndi—a whimsical touch. Bold florals dominate this henna while leaves, geometrical motifs, and a few paisleys embellish it from various angles. The positioning of the dots produces such exquisite intricacy on either side.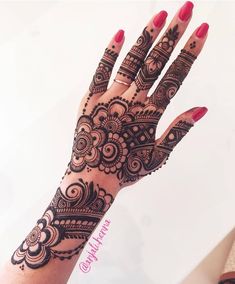 #19 When you think of minimalistic arabic mehndi designs, it often conjures up an image of henna that's too simple for a wedding and the one that might not help you create a statement. This one, however, is a gorgeous exception to the lot. We love how this henna design covers the whole hand and yet doesn't minimize the spacious feels of the arabic mehndi. Using just the leaves and floral elements, this beautiful arabic mehndi design is minimalistic yet appeals to anyone who lays eyes on it.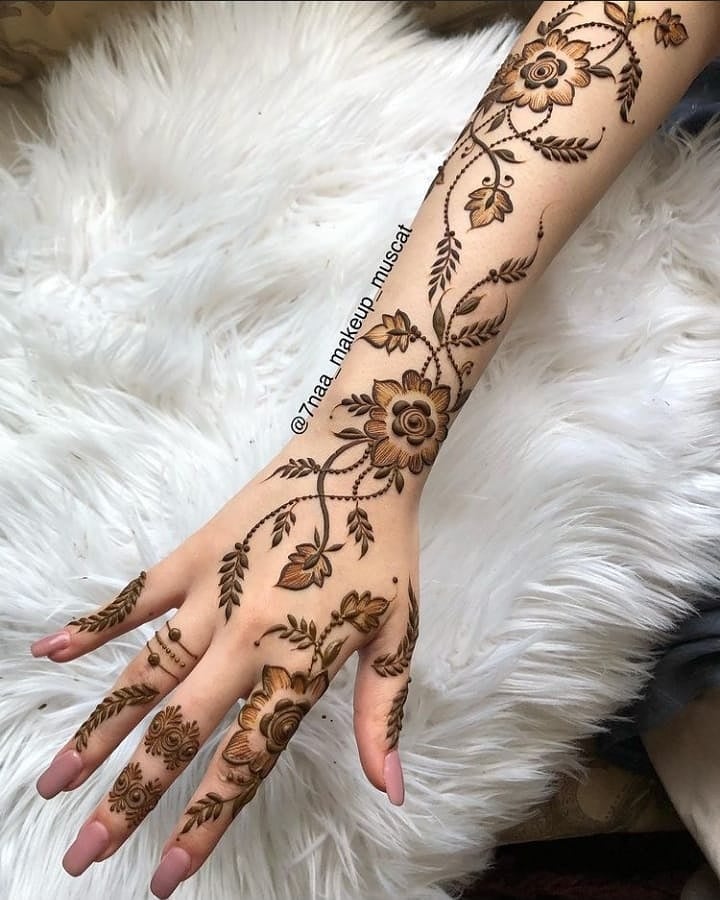 #20 The charm of paisleys is unmatchable. This backhand easy arabic henna design employs the use of just this endearing element of Arabic mehndi. It's also a simple henna design to recreate at home when you want to apply that quick shagun mehendi for an upcoming festival or wedding. To enhance the beauty, just cover the tips of your fingers completely.
mehandi ka design
The highlight of this design is the elaborate motifs that accentuate the hand. In short, an interesting pattern that surely is a sight to behold! For the modern bride, this minimalistic arabian mehndi design which is intricate and beautiful, is surely a go-to one.
8. Palm Cuff Decorative Design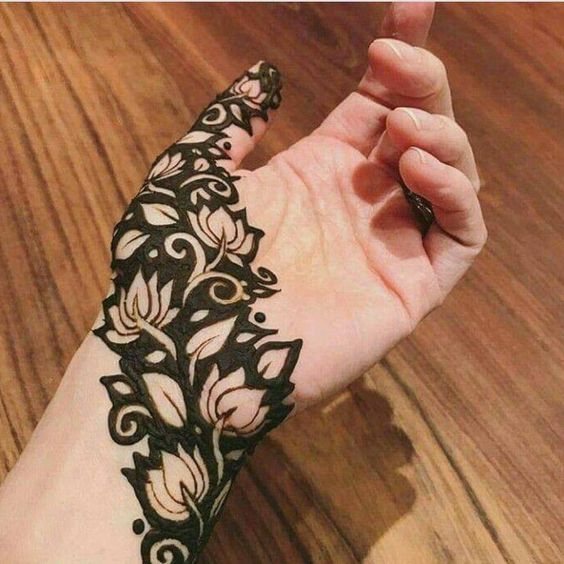 Palm cuffs became quite a rage a few years back! Now that the trend has declined, we decided to add a mehndi design which gives an impression of that jewellery piece. We love how this one display patterns like lotus & leaves with so much panache. And also, don't miss the fact that this arabic henna design will let your fingers be free to hold that glass of wine!
9. Geometric Arabic Mehndi Design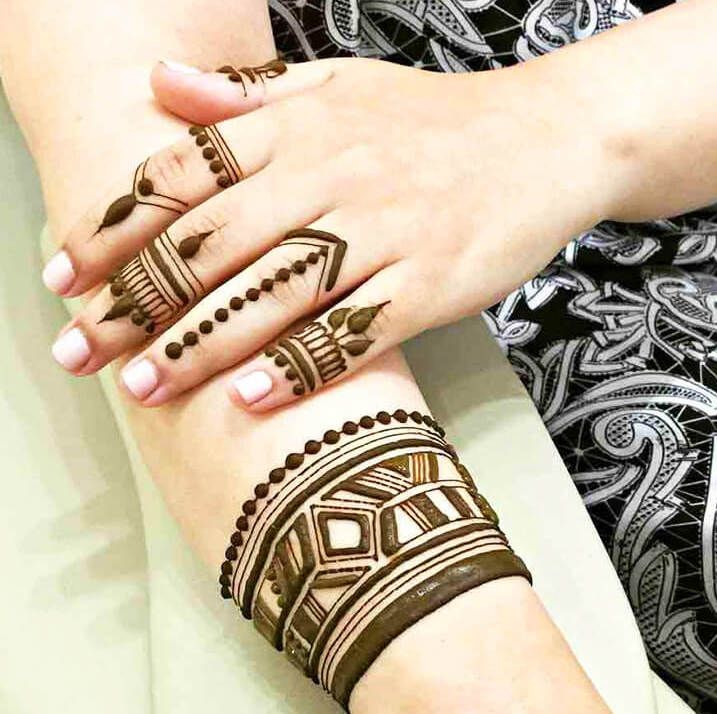 It's an amazing tribal tattoo-like, geometric patterned Arabic mehndi design for hands. Looks the best when designed in black mehndi. Visually appealing! The bracelet on the forearm and the fingers being adorned with bead like structures, makes this Arabian mehndi design worth a bookmark!
10. Butterfly Mehndi Design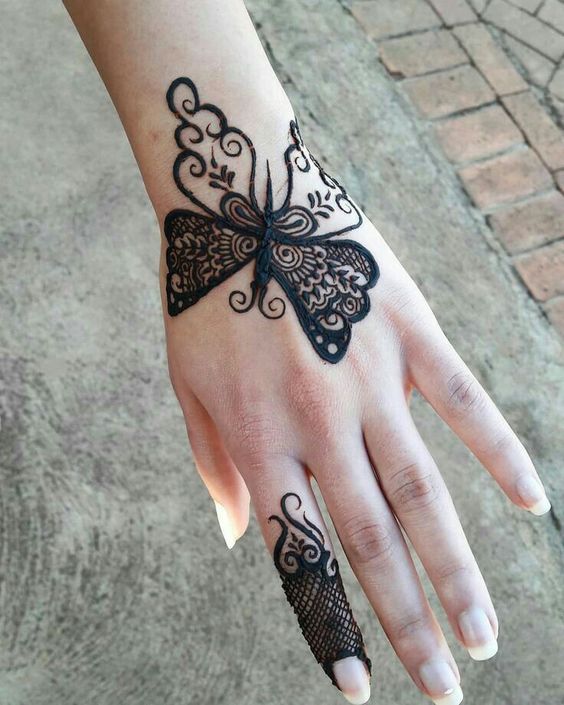 Woah! This one is definitely for the millennials. It is the newest trend in Arabic mehndi art, and one cannot help but give it a try. Thanks to its sheer beauty!